A Global Consciousness Meditation
Presented by GCP & Neurofeedback Co.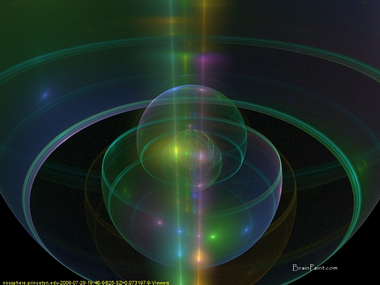 To add a mindfulness meditation to your day, or just watch the beautiful images generated from the GCP/EGG data, see consciousness-meditation.com. These Global Brain Paintings are created from GCP/EGG data using adapted neurofeedback algorithms developed to show the complex beauty of brain activity. Dynamic images of a person's brain at work are of great value for neurofeedback training, which has been used to improve ADD, ADHD, depression, insomnia, head injury, meditation, etc. Roger Nelson proposed that Bill Scott adapt his algorithms for the GCP Project in order to create a dynamically changing global consciousness meditation. (You may enjoy a small collection of original globalbrainpaintings).
The result has been a global BrainPainting created from one minute of EGG data collected from the 65 sites around the globe — a new image forms from this data every 1 to 1.5 minutes. We have received numerous emails from people around the world sharing with us that they keep the rotating images on their desktop as a form of mindfulness meditation, group meditators use the images as a mandala, people send intentions, prayers and blessings through the messenger (upper left side of image), and the majority just delight in watching the constantly changing colors and imagery. We appreciate the feedback, and agree that the repetitive rotating images are a perfect addition to a mindfulness practice.
Since 1994 when Jon Kabat-Zinn wrote Wherever You Go, There You Are: Mindfulness Meditation in Everyday Life, mindfulness has become encouraged as a practice in everyday activities and not just during an isolated meditation session. Mindfulness meditation is being used for everything from helping OCD to relieving everyday stress. Just as many meditators have Meditation Timers to remind them to change yoga poses at certain intervals, or just to slowly and gently be brought out of a meditation session. Mindfulness meditators use cues as a reminder to get centered, take a deep breathe or observe their thoughts. What a wonderful idea to use the Global BrainPaint images as a cue for a mindfulness practice.
We just upgraded our servers to accommodate more participants and traffic. Enjoy and Namaste.
For more information on the most frequently asked questions we receive please use the following links:
---
We are ready to begin a global consciousness meditation. The data coming from your servers is very complex and lifelike. I have a server up and running taking a minute of your data and updating an image every minute. The images from your data are quite profound!

— Bill Scott, Neuroscientist & Inventor